CA360/377 BRASS HOSE BARBS
CA360/377 BRASS HOSE BARBS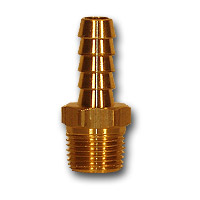 Multipurpose rigid brass barbed hose fittings and menders connect hoses to pipe in multipurpose hose assemblies. They are also used to repair damaged hoses to help extend their life. These brass fittings have raised ridges (or barbs) that grip the insides of hoses to hold them in place and are secured with a clamp or crimped ferrule to form a tight seal. They are commonly used for low-pressure applications in the food and beverage, marine, and chemical processing industries to convey air, fluids, and chemicals through a pipe system. CA360 brass fitting composition information

Brass hose barbs are recommended for general purpose air, water and other low pressure applications. CA360 brass construction prevents rust and corrosion. All hose barbs must be firmly fastened with hose clamps or ferrules.

Click on a category to drill down.