NYLON AIR BRAKE TUBING SAE J844
NYLON AIR BRAKE TUBING SAE J844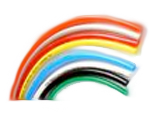 Air Brake Tubing is lighter and more flexible than metal tubing. It also resists attack by common chemicals encountered in Over-The-Road use such as road salt, gasoline, diesel, oil, and grease. Along with these features, the tubing remains flexible under widely fluctuating temperature changes, from -40°F to +200°F. This tubing should not be used where temperatures exceed +200°F or where battery acid can drip on tubing.

Air brake tubing conforms to SAE J844 standards and meets D.O.T. FMVSS571.106, Maximum working pressure 150 P.S.I., Minimum burst pressure 950 P.S.I. Fitted coiled air brake tubing is available in standard Red and Blue colors.
Click on a category to drill down.